Discover more from Talking Documentary
Observations and conversations on the art, craft and business of documentary filmmaking.
Documentary as reverie
"Just Dave" ignores filmmaking grammar and kicks ass because of it
I recall the moment I encountered the thumbnail image for Just Dave. It was curious and different, and it hinted at something esoteric … and possibly wonderful. I'm a sucker for unknown films that punch above their weight and get pushed into the world by determined solo filmmakers
Of course, these films are as common as black squirrels. I mine the streaming services in search of these rare gems, but those efforts go fruitless most of the time. It's hard to find undiscovered magic in 2023.
Thanks for reading Talking Documentary! Subscribe for free to receive new posts and support my work.
If I'm being honest, the opening minutes of Just Dave didn't fill me with hope. From the film's first beat, I sensed no urgency, intrigue, or even structure. I was watching an older guy shuffle around his apartment, variously showering, cooking dinner on a hot plate, and talking about his past.
Who was this guy? And why should I care?
But then a funny thing happened. A few minutes turned into six or seven, and Dave started to win me over. As did director Viktor Dudchenko's simple, confident camerawork. This was a film set in a universe where three-act structures, conflict, and inciting incidents don't exist … and don't need to.
This was a film determined to be itself. And nothing more.
But for Just Dave, that's more than enough. This is 59 minutes of sublime portraiture. Its subject, the Los Angeles artist David Fortin, is textured and vulnerable. And its director, Dudchenko, is confident enough to let Fortin guide the way and to allow Dave's quirky living space—packed with art, tchotchkes, musical instruments, and lots of memories—speak for itself.
Turns out Dudchenko and Fortin had been friendly for a couple of years. Dudchenko saw something extraordinary in his friend. They had discussed doing a project of this sort, but life kept getting in the way. And then March 2020 rolled around.
"I had a lot of projects before Covid but when Covid hit, all of my [video] projects were canceled," Dudchenko told me. "I would say like for a time I lost my job. I [started] delivering pizza just to pay my bills, and I was like, okay, now I have time to work on this project."
Dudchenko is at a special point in his evolution as a filmmaker. He's experienced enough to know his way around a shoot, but he's early enough in his career that filmmaking remains a process of discovery. From the non-standard 59-minute running time, to the lack of any secondary characters, to the continuously repeating musical motif … Dudchenko is, for good or bad, making his own film.
"It's hard to explain," Dudchenko said. "I just got this feeling, I need to do [this project]. It doesn't matter [if people] like it, and it wasn't like a project for money. I just use what I have around me, and it came out how [it] came out."
Dudchenko was born in Russia and moved to the U.S. in 2012. His English is halting as you might expect, and you sense that he's early enough in his American experiment that he still sees the culture through Russian eyes.
It's that outside perspective, coupled with the constraints of low-budget filmmaking, that gives Just Dave its singular and ephemeral vibe. This film, in other hands, might look and feel quite different. As it is, the film is reminiscent of one of those college all-nighters when you meet someone intriguing and stay up until dawn talking.
Fortin is subtly magnetic, colorful, and inexhaustible. He is André Gregory in My Dinner with Andre, holding forth on life, love and art without needing much in the way of prompts or encouragement. Thankfully, Fortin holds us the entire way.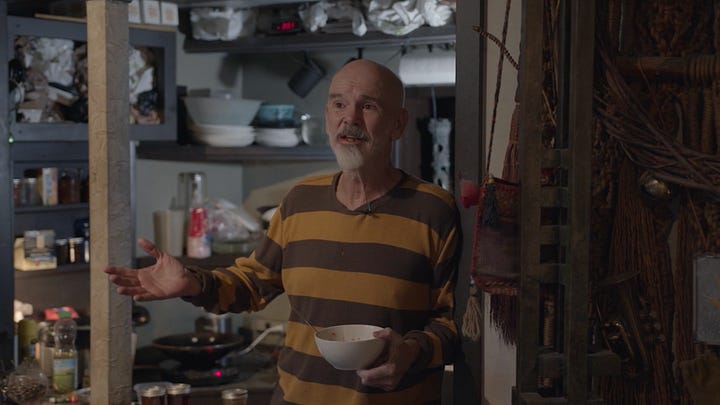 In an age when documentary film has become increasingly corporatized, Dudchenko's film gives me hope. His pizza delivery backstory isn't a cute marketing twist. It's real life. It speaks of a filmmaker surviving by any means necessary. It also speaks of a filmmaker dialed into his own internal compass. This is not a guy supplicating in the hallways of Netflix, where filmmakers jockey for the next lucrative six-episode series. That is documentary as commodity. What Dudchenko is doing is far more elemental and oddly self-referential. It is documentary as … documentary. The pure stuff.
The odds of a film about David Fortin getting green-lit by a Netflix executive would be, in the words of late Oakland Raiders announcer Bill King, "75 million to a half." Fortin has never trended on Twitter. He didn't kill anyone and he doesn't train exotic animals. He doesn't have 17 kids or bounce around in a wackily performative family. He's simply a guy who lives alone, who introspects readily, and whose only artifice in Just Dave is allowing a filmmaker into his space.
I'd like to think Albert Maysles would love this film. That he'd see in Dudchenko's film some tip of the hat to Maysles's 1976 classic Grey Gardens. Ordinary people can make for fascinating films. No other ingredients—or Netflix executives— are required.
Thanks for reading Talking Documentary! Subscribe for free to receive new posts and support my work.